The weather is cooling down, it is dark before 6:30 and I am in bed before 9pm. It must be Fall!
Fall is very exciting in Southern California. It is when you start wearing long sleeve shirts
and possibly shut your windows at night. Since we don't get typical fall weather here I try and find other ways to get in the spirit.
Lanterns have been very popular for a while now, I decided to shamelessly jump on the bandwagon with this tutorial.
Materials:
*4 wooden frames with glass. I used 8 1/2 x 11 ($1 each a the dollar store)
*1 old recess light (I bought mine from Habitat for Humanity)
How much do the recess lights look like lantern tops?

Instructions:
1. Remove the glass from your frames.
2. Nail/Screw all 4 picture frames together to make a box. I used tiny wire nails.
3. Cut two squares, one for the base and one for the top. I made my cube and then decided how big I wanted the base/top. I made the base and the top the same size.
4. Attach your picture frame cube to the base. *Do not attach the top yet*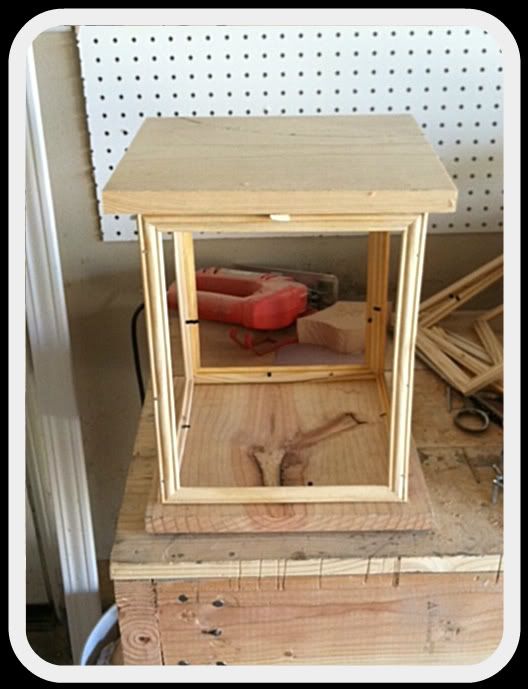 5. At this point I decided I wanted one more layer to the top. I cut another square that was 2" smaller on each side and nailed it to the top layer.
6. Attach the recess light to your top. I predrilled two holes and used screws to attach.
Freak out a little lot because it looks bad.
Decide it doesn't look *bad*, per se, but it looks like picture frames with a recess light on top.
Reaffirm that a picture frame with a light on top is not the look you are going for.
Run inside to answer your work phone. Don't they know you are crafting? Do they expect you to just stay by the phone from 9am-4pm?
Return to your project invigorated because nothing can go as bad as that work phone call!
7. Sand the entire thing to smooth wood and soften edges.
8. Wipe all dust from the lantern and proceed to spray painting!
Tralah! I love spray painting. I get all happy, excited and feel like the rest of the project is downhill from here......... Maybe it is the paint fumes. It probably is now that I think about it. I blew my nose the other day there was a little "Oil Rubbed Bronze" on the tissue. Huh. *makes mental note to check into spray paint poisoning symptoms*
9. Put the panes of glass back in, add an electric candle and enjoy the ambiance.
I love the lantern. I plan on going back to the dollar store to get frames in different sizes. My original plan was to place this lantern on the porch but it has found a home on my hearth.
You can customize this tutorial by adding frosting to the glass panes, changing the size and also adding more layers of wood to the base and top. Stacking flat pieces gives the item depth and makes it look more expensive.
If you are not inclined to using power tools I am selling these at my Etsy Shop. Mentioned you were referred from my blog for a 10% discount.
Show me lanterns, ladies!